The holidays are here at The Penrose apartments in Bozeman Mt. Are you planning on pleasing a hungry crowd at any holiday parties this season? Whether you're hosting friends and family in your modern apartment or heading to theirs, don't show up empty-handed!
One of the best ways to spread cheer, as we mentioned in an earlier blog, is by making something tasty to share! Here are some delicious holiday party dishes to try this season.
We've included some recipes for those of you who are looking to go all out, as well as more conservative cooks. Whichever recipe you choose, we're certain that everyone will love it. Nothing tastes better than a meal made with love after all! Without further ado, here are our very favorite festive holiday dish recipes.
Bacon-Wrapped Scallops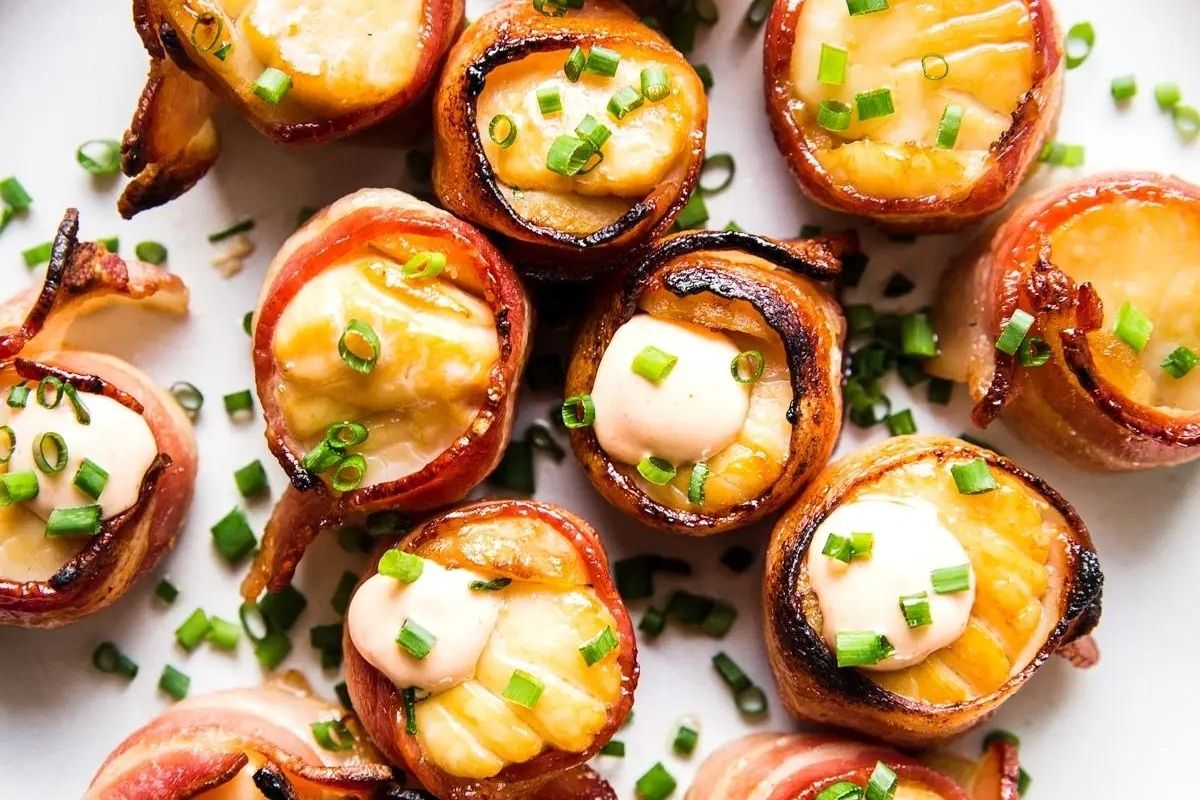 These bite-sized bacon-wrapped scallops are one of the best savory appetizers you'll try. This crisp and juicy combination is the perfect cocktail party snack. Try them for yourself!
INGREDIENTS
1/4 cup

Soy sauce or tamari

1/4 cup

Orange juice

1/4 cup

Brown sugar

1.5 lbs

Large sea scallops

1

8 oz can sliced water chesnuts

1/2 lb

Thin bacon, cut into 3″ pieces

Toothpicks
Sriracha Aioli Dipping Sauce
3/4 cup

Mayonnaise

2 tbsp

Sriracha

1 tbsp

Lime juice
DIRECTIONS:
In a small bowl combine soy sauce, brown sugar and orange juice. Add scallops to soy sauce mixture, toss to combine and allow refrigerate for 30 minutes or up to overnight.
Combine mayo along with sriracha and lime juice until smooth in a small bowl. Sriracha mayo can be made ahead and stored in refrigerator for up to 2 weeks.
Preheat oven to 425°F.
Working with one scallop at a time, lay bacon piece flat add a slice of water chestnut to the center of the bacon followed by a marinated sea scallop. Tightly wrap the bacon around the scallop and pierce with a toothpick to hold the bacon in place.
Place on baking sheet lined with a cooling rack and bake for 12-15 minutes, or until bacon is crispy. (For extra crispy bacon, broil for the last 2-3 minutes, just keep on eye on them!) Serve warm along with sriracha mayo.
Jalapeño Poppers
A classic holiday party appetizer that you just can't go wrong with is the Jalapaño popper. These cheesy boats of flavor with a little bit of spice are some of the easiest and tastiest snacks for any party. Get things heated up by trying out this holiday party recipe.
INGREDIENTS
10

Fresh jalapenos

8 oz

Parmesan cheese, shredded

8 oz

Cream cheese, room temp

4

Pieces thick cut bacon, cooked and finely chopped

2 tbsp

Fresh chives, chopped

2

Cloves of garlic, minced

1/2 tsp

Salt

1/2 tsp

Freshly ground pepper

2 tbsp

Butter, melted

1 cup

Panko
DIRECTIONS:
Preheat oven to 350° Lightly grease a baking sheet and set aside.
In a small bowl, combine the parmesan cheese, cream cheese, crumbled bacon, chives, garlic, salt, and pepper.
Using kitchen gloves or a plastic grocery sack to protect your hands, halve each jalapeño lengthwise. Remove seeds and membranes using a paring knife. Spoon cheese mixture evenly into each jalapeño half.
Melt butter and pour over panko. Toss to coat. Sprinkle evenly over each popper. Place the peppers, cut side up, on a baking sheet and bake on the bottom rack until the cheese has melted, jalapeños have softened and panko is golden brown. About 30 minutes.
Remove from the oven and serve immediately.
No-Bake Cookie Butter Bottoms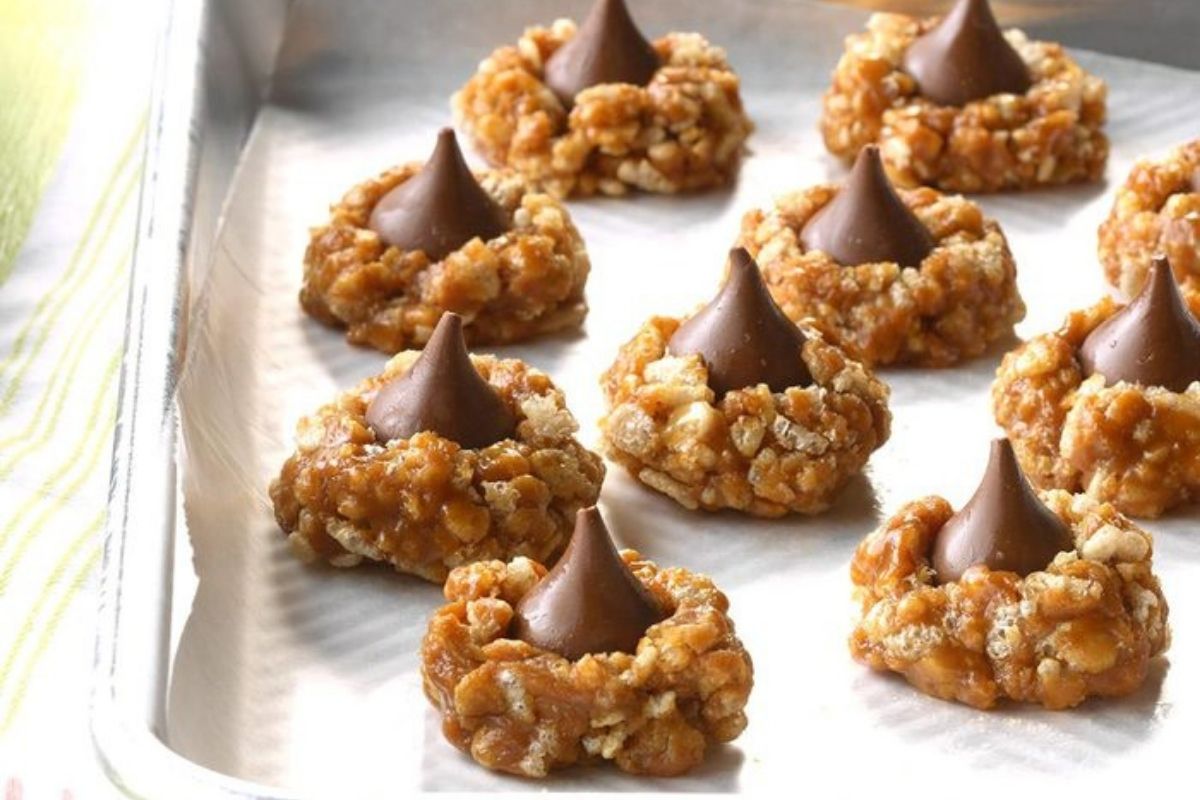 Are you looking for an easy sweet option for your holiday party dishes to try? Check out these no-hassle cookies that you don't even have to bake! How great is that?
INGREDIENTS
1 cup Biscoff creamy cookie spread
1/2 cup corn syrup
3 cups Rice Krispies
32 milk chocolate kisses
DIRECTIONS:
In a large saucepan, combine cookie spread and corn syrup. Cook and stir over low heat until blended. Remove from heat; stir in Rice Krispies until coated. Shape level tablespoons of mixture into balls; place on waxed paper.
Immediately press a kiss into the center of each cookie. Let stand until set.
Layered Candy Cane Dessert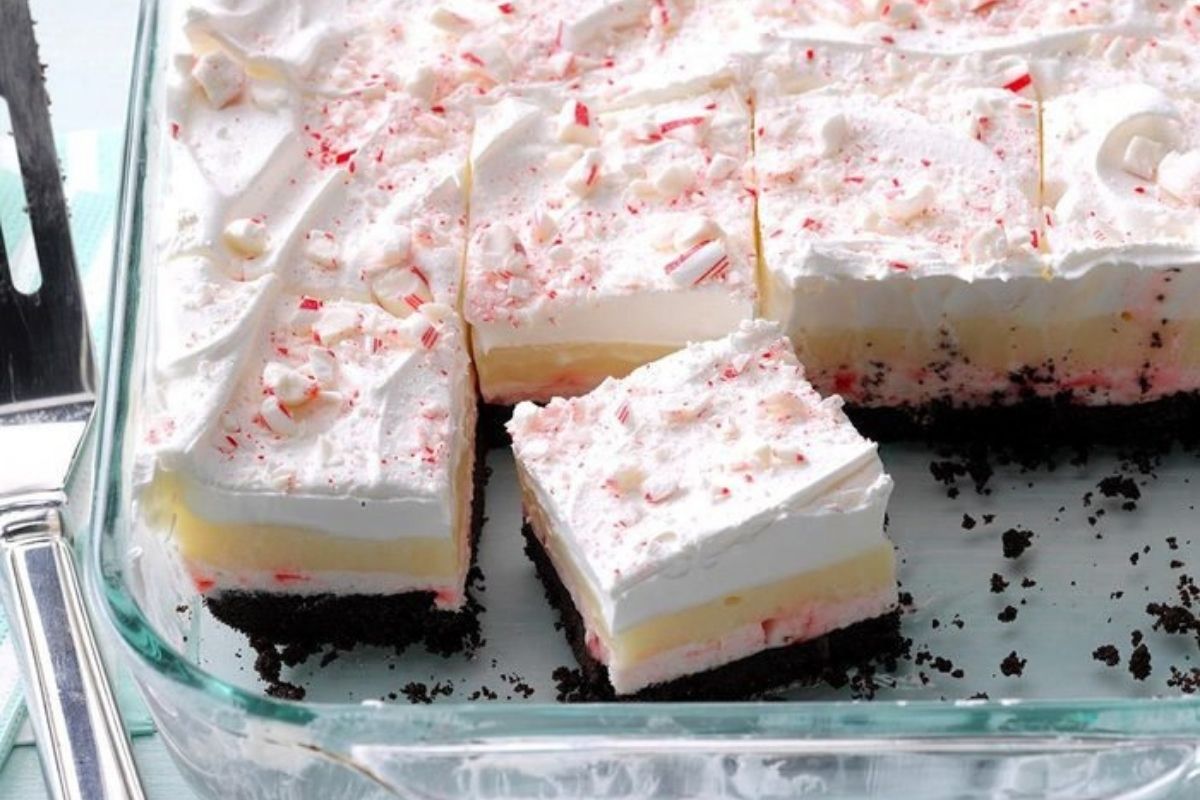 How much more holiday-themed can your holiday party dishes get than ones with candy canes in them? Try out this super easy layered combination of cookie and candy cane goodness.
INGREDIENTS