If you enjoyed our summer cocktails to make at home, we've got another set of recipes to get you through the winter. The extreme weather around The Penrose luxury apartments can be a lot to handle, but we've got the cure. There's nothing like a Hot Toddy to get you through the brisk winter. We've gathered the perfect list of recipes for winter cocktails to warm up with.
Keep these winter cocktail recipes in mind as you host friends or family at your luxury apartment over the holidays and colder season. Summer cocktails have some competition with these delicious and spirited drinks. We've also included some festive options that would be perfect for a holiday party, and pair perfectly with the dishes in our previous post about holiday party dishes and desserts. Head over to the last blog to check out these recipes now.
Without further ado, here are some of our favorite winter-themed cocktails to get you through the cold.
Hot Toddy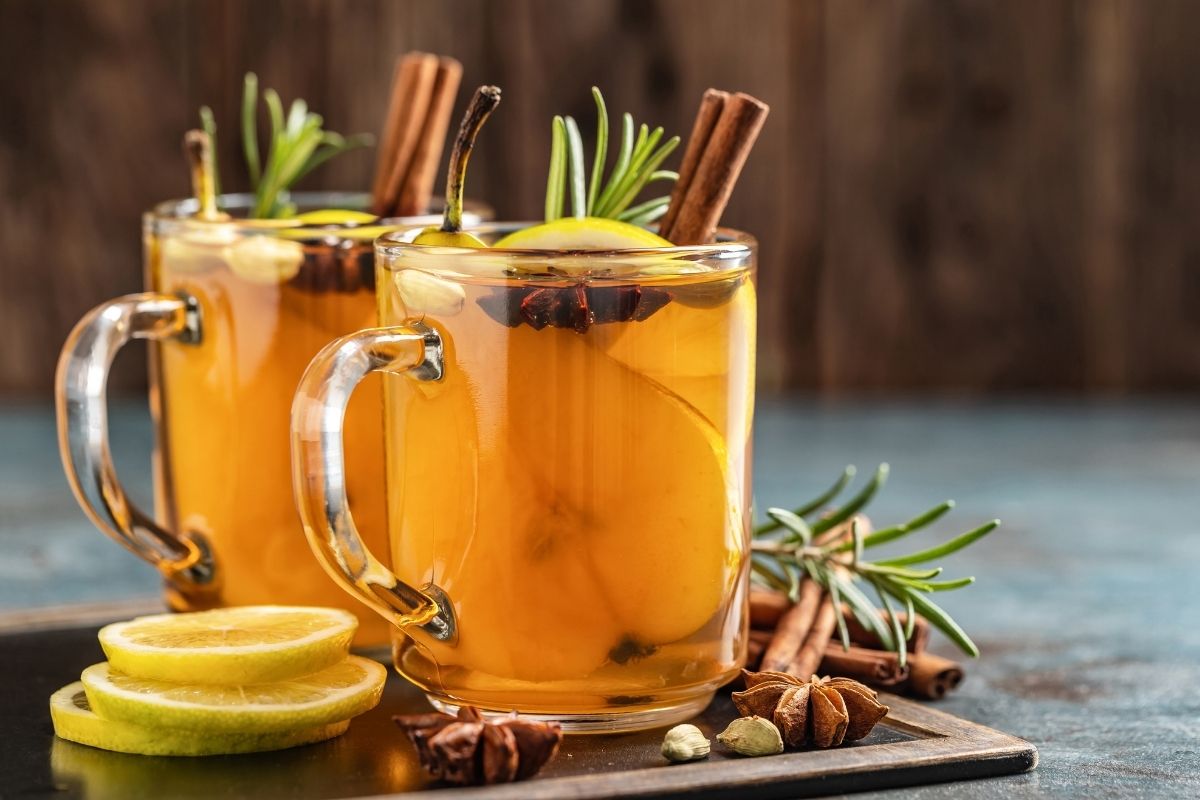 Starting out with an alternative to the hot tea you enjoy in the morning time, we have the Hot Toddy. This winter cocktail to warm up with is the perfect drink to end a cold night with. It pairs refreshing honey and lemon with smokey cinnamon and whiskey, making the perfect combination of flavors and smells. Dress it up or dress it down, either way, you're sure to get a buzz.
INGREDIENTS
¾ cup

 water

1 ½ ounces

 whiskey

2

 to 

3

 teaspoons honey, to taste

2

 to 

3

 teaspoons lemon juice, to taste

1

 lemon round

1

 cinnamon stick (optional, for garnish)
DIRECTIONS
In a teapot or saucepan, bring the water to a simmer. Pour the hot water into a mug.
Add the whiskey, 2 teaspoons honey, and 2 teaspoons lemon juice. Stir until the honey has disappeared into the hot water. Taste, and add 1 teaspoon honey for more sweetness, and/or 1 teaspoon more lemon juice for more zing.
Garnish with a lemon round and cinnamon stick (if using). Enjoy!
Boozy White Hot Chocolate
Looking to get a buzz while satisfying your sweet tooth? This winter cocktail to warm up with might be the sweetest of the bunch. This drink takes a spin on your classic hot chocolate, opting for white chocolate rather than milk, as of course the addition of liquor. Try out this recipe for a boozy white hot cocoa the next time you're craving a hot chocolate with a twist.
INGREDIENTS
2

 

cups

 

whole milk

½

 

cup

 

white chocolate chips

 

I used Ghirardelli

2

 

oz

 

rum or Frangelico

 

or your favorite liquor

½

 

tsp

 

cinnamon

½

 

tsp

 

ginger

½

 

tsp

 

freshly ground nutmeg

¼

 

tsp

 

cardamom

Marshmallows for topping
DIRECTIONS
1. In a small pot, on medium-low heat, add all the ingredients except for the marshmallows and rum. Use a whisk to mix everything together and slowly melt the chocolate.
2. Once the heated milk is hot enough but not boiling, add rum and pour into mugs. Top with marshmallows.
Hot Mulled Apple Cider & Rum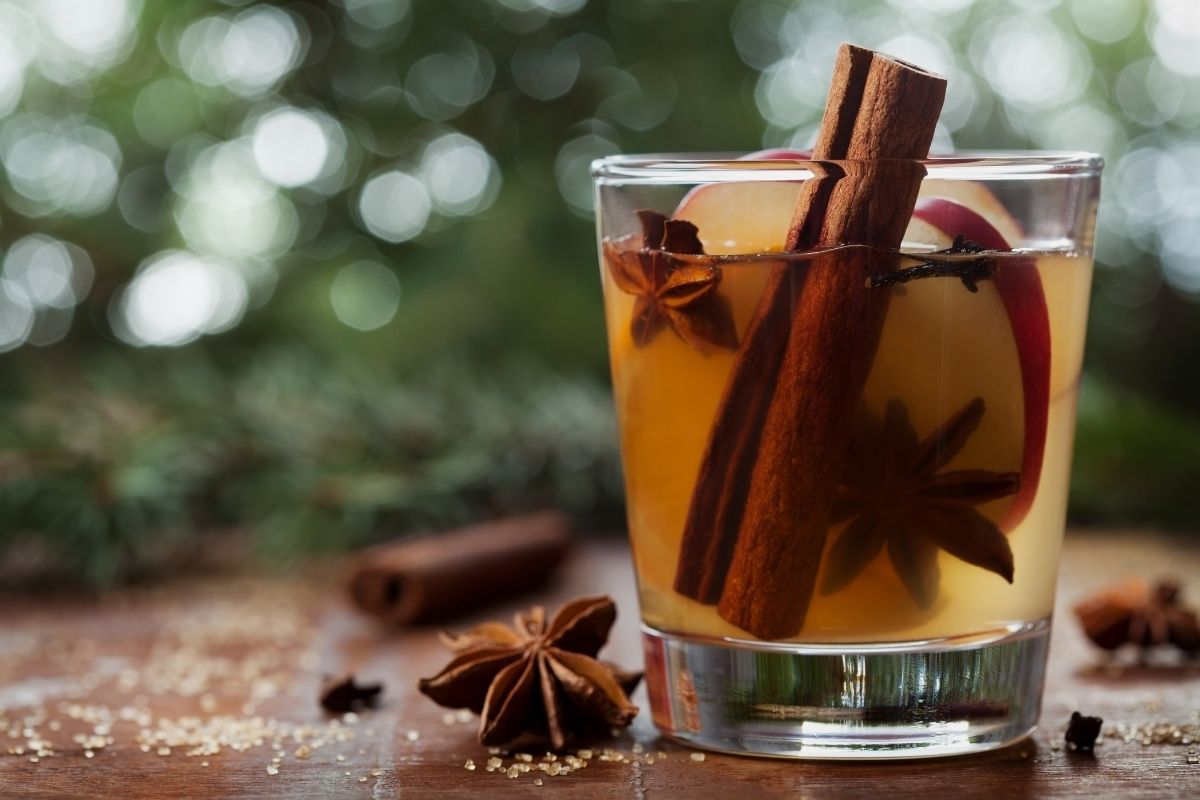 A classic cocktail for the winter is a variation of the apple cider we enjoy all winter long. This recipe isn't far off from your typical cider recipe, as all you need to do is add a shot of rum! the warmth of the cider mixed with the richness of the rum will win over any crowd you serve this to. Pair it with some fresh garnishes and you'll be the star of the holiday party. Try this recipe for a
spiked hot apple cider
.
Ingredients
1 gallon

 unfiltered apple juice or apple cider

1

 large orange, cut into 

1/4

" slices

3

 cinnamon sticks
4-star anise

1 tablespoon

 whole cloves

1 tablespoon

 whole allspice

1

" ginger root, sliced

1 1/2 cups

 spiced rum (I used Captain Morgan)
DIRECTIONS:
To a large 10 qt dutch oven, add apple juice, orange slices, cinnamon sticks, star anise, whole cloves, whole allspice, and ginger root. (If you have a spice ball, add clove and allspice to that. It's easier to clean up afterward.
Bring mixture to a boil. Reduce to simmer and cover for 2-3 hours.
Add rum to the apple cider mixture.
Remove fruit and spices from the pot.
Serve!
Casino Coffee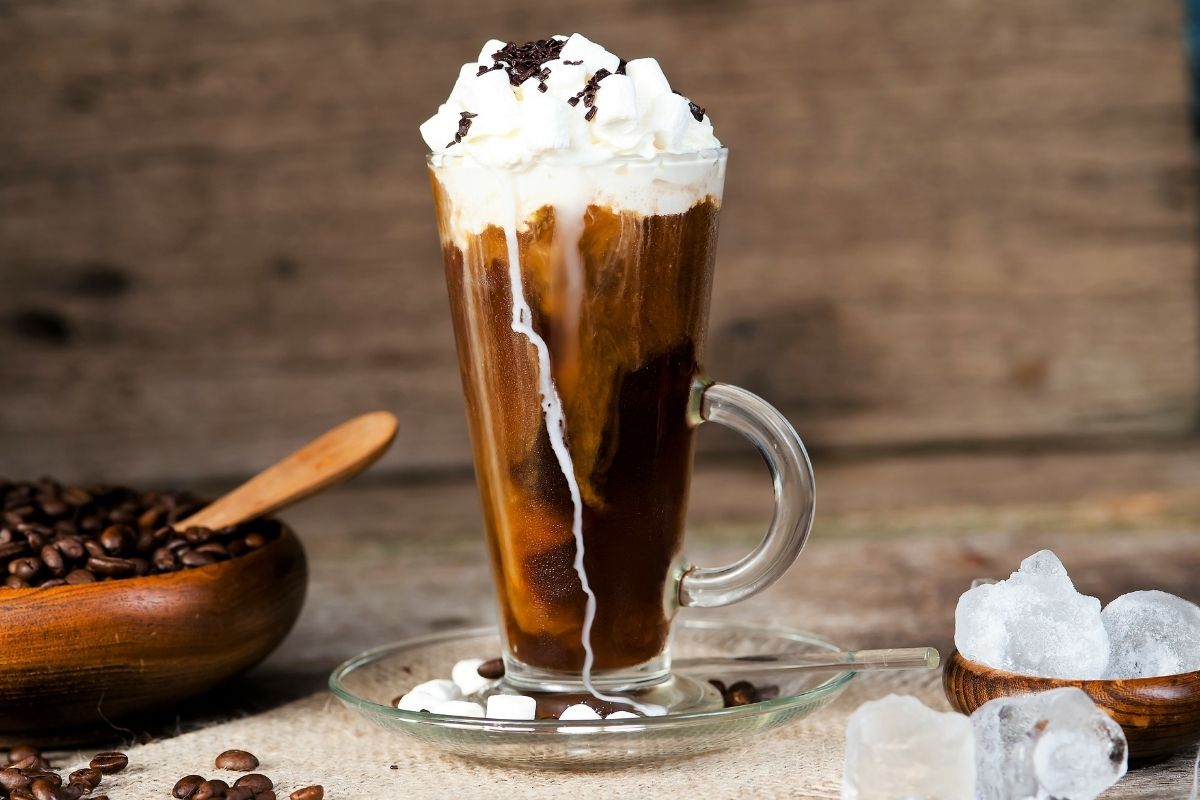 Looking for a warm spin on an espresso martini? Try the casino coffee as your next cocktail to keep you warm. Despite its name, you won't have to take a gamble on this warm drink. If you love coffee, chocolate, and booze, you'll love this cocktail. Top it off with some whipped cream and enjoy.
INGREDIENTS
1 1/2 ounces brandy
1/2 ounce dark crème de cacao
1/2 ounce amaretto
5 ounces hot black coffee
Whipped Cream
Chocolate Shavings
DIRECTIONS
Combine the brandy, dark crème de cacao, amaretto, and black coffee in an Irish coffee glass.
Top with the whipped cream and chocolate shavings, and serve.
Amaretto Spiked Eggnog Latte
This last warm winter cocktail is perfect for the holidays. During the Christmas season, you'll probably be fully stocked with eggnog in your fridge already. If you are, then good news! All you need to complete this cocktail is a shot of amaretto. If you want. to take it a step further, follow the recipe below. Spice up your next warm glass of eggnog with this recipe.
INGREDIENTS
1 cup eggnog
1 cup strongly-brewed, hot coffee (4 tablespoons coffee to 1 cup water)
1/2 tablespoon sugar
1/8 teaspoon nutmeg
1/4 teaspoon cinnamon
1 ounce amaretto liqueur
Nutmeg for garnish (optional)
Whipped cream for garnish (optional)
DIRECTIONS
In a small saucepan, heat the eggnog until very warm, but not boiling. Remove from heat and froth by either using a frother, blending with an immersion blender or transferring to a Mason jar with lid and shaking vigorously. Set aside.
Combine coffee, sugar, nutmeg and cinnamon in a bowl and whisk together until well mixed.
Pour amaretto into a large mug, add in coffee and mix. Pour hot eggnog over top. Spoon eggnog foam on top. Top with a dollop of whipped cream and sprinkle with more nutmeg for garnish, if using.
We hope you try out one of these winter cocktails to keep you warm through the colder months. They are sure to brighten up your holiday festivities or gatherings this season. If you make any of these cocktails at your Penrose luxury apartment, be sure to tag us in your winter festivities @livepenrose! Stay warm, and happy holidays.