Need some inspiration for your next outdoor adventure? Bozeman, Montana is surrounded by some of the most spectacular scenery and many exceptional destinations are an easy drive from Penrose Residence. There are places galore that may not be on your radar. Here at Penrose, we have rounded up the best ways to explore outdoor adventures off the beaten track. Fun activities include hiking, swimming, rock climbing, mountain biking, skiing, and observing the wildlife. Watch for signs with visitor guidelines at all locations. Bring plenty of water and don't forget your sunscreen!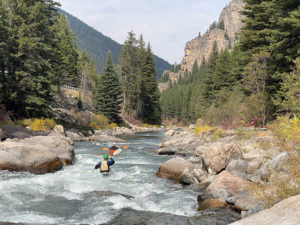 Rock Climbing with Montana Alpine Guides
Rock climb in the summer or ice climb in the brick of winter. In Bozeman, Montana Alpine Guides provides all of the equipment and a guide that will take you outside climbing. A Penrose favorite! Your adventure will include beautiful views of the valley and the Yellowstone river from your climbing spot. Here at Penrose, we have to agree that even if you have never rock climbed, this is the perfect introduction. 
Hyalite Peak 
A trip to Hyalite Peak is one of the most iconic Bozeman experiences you have to check off your bucket list. Hyalite Peak is the second-highest peak in the northern Gallatin Range. Hyalite Peak is a 14.5 mile heavily trafficked trail located near Emigrant, Montana that features a breathtaking lake. Throughout the hike, you will encounter views of waterfalls, streams, and enchanted forests. A climb worth climbing! Here at Penrose, we all agree the views at the top of the peak are pretty impressive.
Outdoor Adventures in Bozeman, MT
Palisade Falls 
A short, easy outdoor adventure for when your family is visiting Bozeman. Palisade Falls is a 1.1-mile trail located 30 minutes from your home at Penrose apartments. The drive from Penrose to Palisade Falls was nothing but serene and beautiful through a forested canyon. Truly a hidden oasis near Bozeman, with a gorgeous waterfall at the end. Our favorite time to visit the waterfall is during fall! Make sure to take some photo's and tag @livepenrose
Montana Grizzly Encounter
Ready for an adventure off the beaten path? Montana Grizzly Encounter in Bozeman is the place where you can get close and personal with legendary grizzlies. It is a grizzly bear rescue and education sanctuary that provides a natural home for rescued grizzlies and offers an opportunity for visitors to learn about these majestic animals right here in Bozeman, Montana.  We are in favor of their lives without cages and in an environment that is as close to the one that is natural to their species in the beautiful mountain setting surrounded by fields with flowers and small ponds. An adventure we recommend here at Penrose! 
Gallatin River 
Fun fact: The Gallatin River was named after the US Treasury Secretary, Albert Gallatin. The Gallatin River is 120 miles long and is one of three rivers that forms the Missouri River. One of the best whitewater rafting runs right here in Bozeman, Montana.  Visitors from all over flock to the challenge and you have the scenic river in your backyard. As part of your Bozeman Bootcamp, Gallatin River is also a great place for flyfishing, zip-lining, kayaking, and even camping.