"But first, Coffee" is a motto that all of Bozeman live by; this whole city is rich in coffee shop culture. It is not hard to find a coffee shop while living at Penrose for your morning cup of coffee or your mid-day pick me up. For your convenience, we have narrowed it down to the top three best coffee shops right here in Bozeman near Penrose Residences.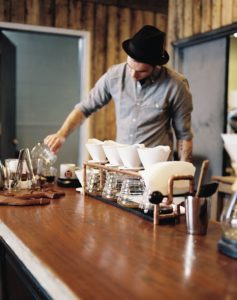 Wild Joes Coffee Spot: 
A local hotspot in the middle of downtown Bozeman. Wild Joes Coffee is a short 9 minutes away from Penrose with many drink options and fantastic food.  While you enjoy your coffee, they have plenty of seating to get some work done, catch up with friends and even listen to live music. There is always something to see; they host art installations, music, and inspiring, thought-provoking events throughout the month. 
Rockford Coffee 
Whether you're a coffee novice or experienced brewer, this quaint coffee shop offers some of the best on-site roastings, and they also sell beans to roast at home. Rockford Coffee is where you will find good vibes, great service, and strong espresso. The team at Penrose are big pans of their Caffee Latte and their Caffee Americano. 
The Daily Coffee Bar 
We know coffee is your morning fuel, but you'll need a pick-me-up mid-day. The Daily Coffee Bar is an excellent neighborhood spot near your apartment at Penrose for that afternoon boost. A charming cafe serving up sustainably sourced and meticulously roasted espresso and coffee alongside fresh grab-and-go breakfast and lunch options. We love the Daily Coffee Bar here in Bozeman not only for their coffee but also their mouth-watering pastries baked in-house from scratch. 
Cafe M 
A short 2 miles away from your Penrose Residence is one of Cafe M's locations located on W Kagy Blvd. Cafe M proudly serves craft Ghost Town Coffee Roasters Coffee, fresh pastries, and our favorite here at Penrose, their delicious breakfast burrito. We are big fans of their drip coffee, their Nitro Cold Brew, and of course, their San Diego breakfast burrito. For great vibes, coffee and food, visit our neighborhood stop, Cafe M in Bozeman.